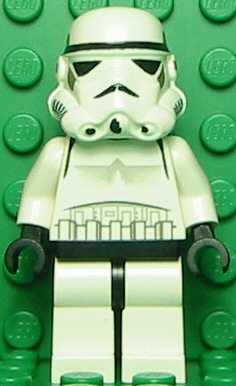 Stormtroopers are LEGO Minifigures based on the Stormtroopers in the Star Wars movies. The Imperial Stormtroopers were the nameless, faceless minions of the Galactic Empire. After the Old Republic was announced an Empire, the Clone troopers were reorganized into Stormtroopers. The Clones were given new armor and soon non-cloned humans were allowed to join the Stormtrooper ranks. Stormtroopers have been featured a wide variety of sets in the Star Wars Theme, and have been redesigned with more detail or fixed details often. The minifigure's latest set appearance is the 8087 TIE Defender. Stormtroopers have appeared in three out of the three LEGO Star Wars Video Games. In 2009 There was a world record for the most stormtroopers assembled in 4 hours. It was completed by JETIX/Nitro Magazine; They gave a minifigure Away with each issue.
Appearances
Edit
Lego Star Wars: The Video Game
Lego Star Wars II: The Original Trilogy
Lego Star Wars: The Complete Saga
Lego Star Wars III: The Clone Wars
Ad blocker interference detected!
Wikia is a free-to-use site that makes money from advertising. We have a modified experience for viewers using ad blockers

Wikia is not accessible if you've made further modifications. Remove the custom ad blocker rule(s) and the page will load as expected.