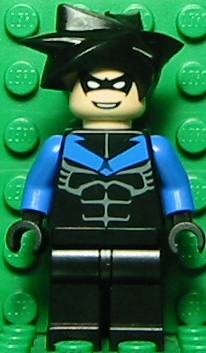 Nightwing was once known as Robin. He became Nightwing after he chose to be a superhero on his own, and through traveling the world, he gained great skills and learned to fly magically. He helped Batman a couple of times. He is an unlockable character in Lego Batman: The Video Game for 125,000 studs. He uses light blue staffs as weapons.
Appearances
Edit
Ad blocker interference detected!
Wikia is a free-to-use site that makes money from advertising. We have a modified experience for viewers using ad blockers

Wikia is not accessible if you've made further modifications. Remove the custom ad blocker rule(s) and the page will load as expected.