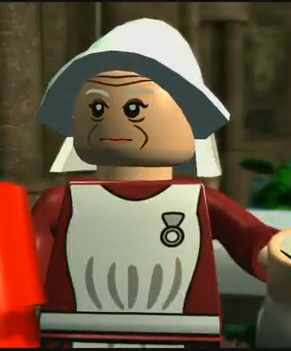 Madam Pomfrey is a minifigure in the new Lego Harry Potter: Years 1-4. She works in the hospital wing at Hogwarts, caring for sick and injured students. She also has to constantly take care of Neville Longbottom, who always seems to hurt himself. One time, she had to take care of Harry Potter, when he hurt his arm in a nasty Quidditch accident. You then get to play as her as well as Hermione Granger and Ron Weasley, finding the ingriedients to make Harry Potter feel stronger again.
Appearances
Edit
Ad blocker interference detected!
Wikia is a free-to-use site that makes money from advertising. We have a modified experience for viewers using ad blockers

Wikia is not accessible if you've made further modifications. Remove the custom ad blocker rule(s) and the page will load as expected.