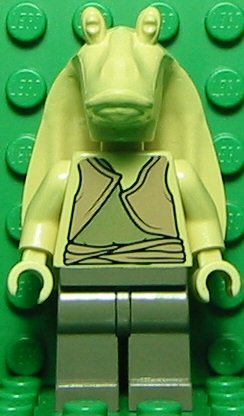 Jar Jar Binks is a character from the Star Wars series of sets. He has been usally seen with Qui-Gon Jinn or a Gungan. Though originally banished from Otoh Gunga by Boss Nass, he was later assigned general of the Gungans during the battle of Naboo. Being clumsy, he had made his way on board a starship with Qui-Gon Jinn, Obi-Wan Kenobi, Queen Amidala, and the others aboard the Naboo ship until it landed on Tatooine. He was later made representative of Naboo, and was present for the funeral of Qui-Gon and Padme. During the Clone Wars he was mistaken for a jedi on Rodia when Padmé Amidala went to investigate Onaconda Farr's Seperatist interventions.
Appearances
Edit
Lego Star Wars: The Video Game
Lego Star Wars II: The Original Trilogy (use old save)
Lego Star Wars: The Complete Saga
Lego Star Wars III: The Clone Wars
Ad blocker interference detected!
Wikia is a free-to-use site that makes money from advertising. We have a modified experience for viewers using ad blockers

Wikia is not accessible if you've made further modifications. Remove the custom ad blocker rule(s) and the page will load as expected.