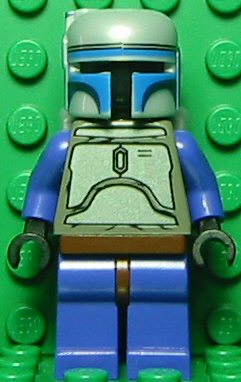 Jango Fett was known as one of the best Bounty Hunters in the galaxy. Fett was the template for which all of the Clone Troopers were cloned from. He also had a son who was also a clone, named Boba Fett, who would later on become the best Bounty Hunter in the galaxy when he got older, just like his father. At the Battle of Geonosis, Jango died at the hands of Master Mace Windu.
Appearances
Edit
Lego Star Wars: The Video Game
Lego Star Wars II: The Original Trilogy (use old save)
Lego Star Wars: The Complete Saga
Lego Star Wars III: The Clone Wars
Ad blocker interference detected!
Wikia is a free-to-use site that makes money from advertising. We have a modified experience for viewers using ad blockers

Wikia is not accessible if you've made further modifications. Remove the custom ad blocker rule(s) and the page will load as expected.