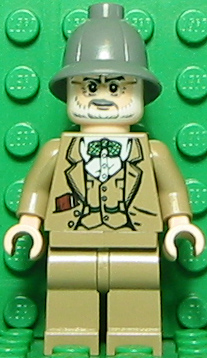 Professor Henry Jones Sr. is Indiana Jones's father. He appears in The Last Crusade. He is hired by Walter Donovan, who has found the tablet which may lead to the location of the secret Holy Grail. Henry later learns that his friend Elsa Schneider is a Nazi working for the other Nazi Walter Donovan. Later, while working in his library, he is captured and taken to the castle. He is then rescued by his son Indiana Jones. Jones Sr. then tells Indiana that the Grail must not get into the wrong hands and they head to Berlin where they try to complete their adventure. Once they make it the the Canyon of the Crescent Moon, Henry is shot; then when Indiana finds the grail he heals Henry Jones's wounds just in time to save his life.
Appearances
Edit
Lego Indiana Jones: The Original Adventures
Lego Indiana Jones II: The Adventure Continues
Ad blocker interference detected!
Wikia is a free-to-use site that makes money from advertising. We have a modified experience for viewers using ad blockers

Wikia is not accessible if you've made further modifications. Remove the custom ad blocker rule(s) and the page will load as expected.