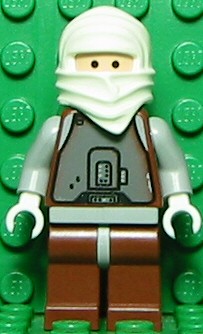 Dengar is a part cyborg bounty hunter who worked with Darth Vader to capture Han Solo and the Millennium Falcon. He sometimes works with his most trusted ally, Boba Fett, for some occasional missions. Dengar was a skilled Imperial assassin before he became a bounty hunter, and completed most of his missions. He flies the star ship Punishing One to travel around the galaxy. He also helped Boba escape the pit of Sarlacc. In the real movie he didn't have his whole face covered, so he realy should have a Hood.
Appearances
Edit
Lego Star Wars II: The Original Trilogy
Lego Star Wars: The Complete Saga
Ad blocker interference detected!
Wikia is a free-to-use site that makes money from advertising. We have a modified experience for viewers using ad blockers

Wikia is not accessible if you've made further modifications. Remove the custom ad blocker rule(s) and the page will load as expected.