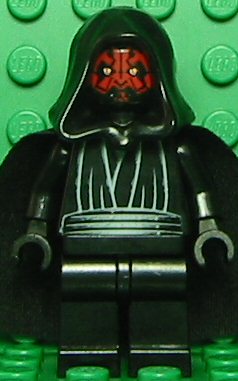 Darth Maul was Palpatine's Sith apprentice, trained from infancy in the Dark Side of the Force. His weapon of choice was his double-bladed red lightsaber. He comes with a hood and a black cape. He was cut in half by Obi-Wan Kenobi, after killing his master, Qui-Gon Jinn. He is originally a Zabrak from Iridonia. His vehicle is the starship Sith Infiltrator, blue-colored, and released later as gray. Also, after landing he takes on the mission from his speeder (also featured in 7663 Sith Infiltrator), which he modified to gain full speed. On some missions, Darth Maul is assisted by some holo-probe droids, featured in both Sith Infiltrator sets. Besides Asajj Ventress, he is the only sith to carry a double-bladed lightsaber.
Appearences
Edit
Lego Star Wars: The Video Game
Lego Star Wars II: The Original Trilogy (use old save)
Lego Star Wars: The Complete Saga
Lego Star Wars III: The Clone Wars
Ad blocker interference detected!
Wikia is a free-to-use site that makes money from advertising. We have a modified experience for viewers using ad blockers

Wikia is not accessible if you've made further modifications. Remove the custom ad blocker rule(s) and the page will load as expected.