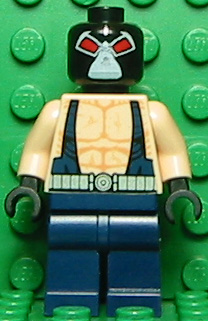 Bane is an antagonist of Batman, who is at the peak of human physical fitness, from which the drug Venom caused. He is also a genius-level intellect and an expert strategies, martial artist and escapologist. He once broke Batman's back at Wayne Manor. In Lego Batman: The Video Game, he can pass through toxic waste unharmed and he also has superstrength. His true name is unknown. His face resembles Cad Bane's from Star Wars.
Appearances
Edit
Ad blocker interference detected!
Wikia is a free-to-use site that makes money from advertising. We have a modified experience for viewers using ad blockers

Wikia is not accessible if you've made further modifications. Remove the custom ad blocker rule(s) and the page will load as expected.