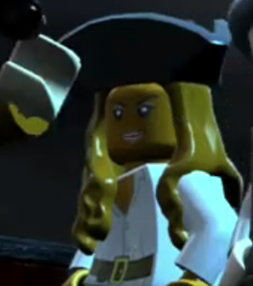 Anamaria was a female pirate who lived on Tortuga. She owned a small sailing boat called the "Jolly Mon", before Jack Sparrow stole it from her so he could find himself a ship. In The Curse of the Black Pearl, she joins the crew Jack Sparrow and Joshamee Gibbs form in Tortuga as a chance to get back at Sparrow. After confronting Sparrow, he promises her another. Will Turner juts in a agrees to give her the HMS Interceptor after the voyage to reclaim the Pearl. She captains the ship after Jack is left behind on Isla de Muerta. Folowing the ship's destruction, she is placed in the Pearl's brig with the rest of the crew until they are freed by Elizabeth Swann. She and the crew leave with the Pearl. Following Jack Sparrow's escape from Port Royal, the crew rescue Jack and make him captain. Anamaria accepts the ship is Jack's. From here it is presumed he got her another boat or ship or returned her to Tortuga prior to the events of Dead Man's Chest.
Appearences
Edit
Ad blocker interference detected!
Wikia is a free-to-use site that makes money from advertising. We have a modified experience for viewers using ad blockers

Wikia is not accessible if you've made further modifications. Remove the custom ad blocker rule(s) and the page will load as expected.