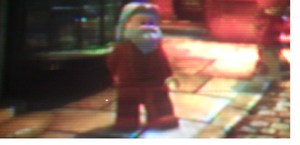 Aberforth Dumbledore is the brother of Albus Dumbledore. He attended Hogwarts School of Witchcraft and Wizardry between 1895 and 1902. His father—who had been sentenced to prison for attacking three Muggles—died in Azkaban when Aberforth was young, and his mother and sister were later accidentally killed. Due to these familial tensions over many years, Aberforth did not have a good relationship with his brother, Albus. Aberforth was the owner and barman of the Hog's Head Inn in Hogsmeade, and was a member of the original Order of the Phoenix during the First Wizarding War. In 1998, he assisted Harry Potter, Ron Weasley and Hermione Granger from a distance during their Horcrux hunt, sending the House-elf Dobby to help them escape from Malfoy Manor. He later allowed them to use a secret tunnel that connected the Hog's Head to Hogwarts when the trio arrived in Hogsmeade. He subsequently fought in the Battle of Hogwarts and survived the Second Wizarding War. He continued to live in Hogsmeade, tending to his goats.
Appearences
Edit
Ad blocker interference detected!
Wikia is a free-to-use site that makes money from advertising. We have a modified experience for viewers using ad blockers

Wikia is not accessible if you've made further modifications. Remove the custom ad blocker rule(s) and the page will load as expected.